Mediatek Helio X23 vs Snapdragon 625 | WHICH ONE IS BETTER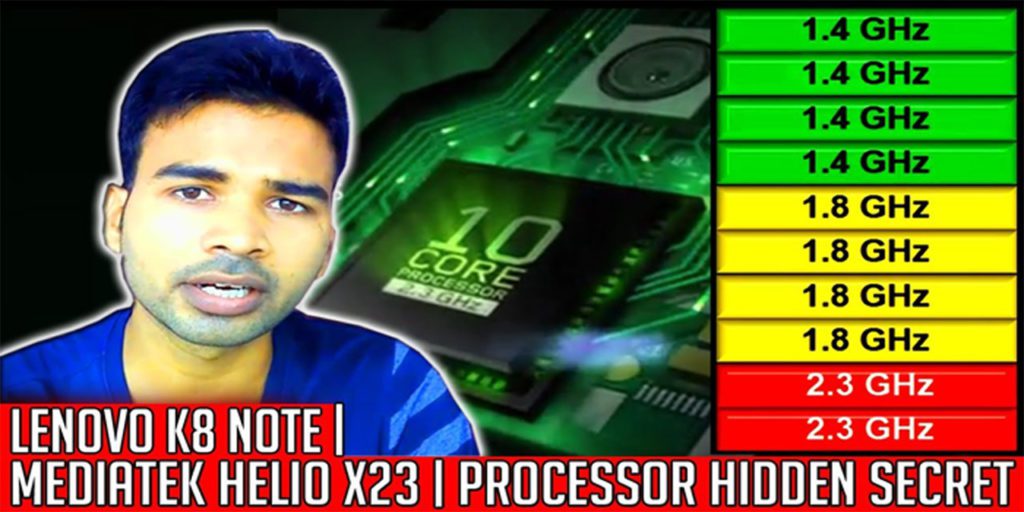 Mediatek Helio X23 (MT6797D)
Lenovo has announced its most awaited smartphone Lenovo K8 Note featuring MediaTek Helio X23 (MT6797D) processor and become the world's first phone to adopt this chipset. In the given price range, it directly competes with some Qualcomm's Snapdragon 625 powered devices included Xiaomi Redmi Note 4. MediaTek Helio X23 is a 2.3 GHz Deca-Core  processor powered by Mali-T880 MP4 GPU. Most of my viewers asked me which processor is better and I have decided to write this post. Here, am going to explain you about all the possible the differences between Helio X23 vs Snapdragon 625 processor.
CORES
In terms of cores, MediaTek Helio X23 is 2.3 GHz Deca-Core processor. But, in true it does not. Helio X23 is havin only two 2.3GHz core, four 1.8 GHz and four 1.4 GHz cores. So, the total core size of this processor is 17.4GHz. On the other hand, Snapdragon 625 is comes with 2.0 GHz Octa-Core processor. Here, you will get all the cores of 2.0GHz and its core size will be 16GHz. In terms of availability of cores MediaTek is the winner.
Architecture
MediaTek Helio X23 is based on 20nm architecture on the other hand Snapdragon 625 is based on 14nm architecture. Here, nm (nano meter) indicates the transistor size available in processor. The more less the size (nm), the more transistor can be fixed into processor. The less nm processor also consumes less power. You, might have noticed MediaTek processors are getting too much of heat and this is one of the main reason. So, in terms of architecture Snapdragon 625 is the winner.
GPU
This is the last and most important feature you must know about it. GPU stands for Graphical Processing Unit and the use of a GPU can greatly increase the performance of a device, especially when used for tasks such as 3D gaming. Helio X23 comes with Mali-T880 MP4 GPU on the other hand Snapdragon 625 comes with Adreno 506. Hence, both the GPU are great in terms of performance but if you ask me to choose one then I will go with Adreno 506 GPU because it consumes less power and gives you more battery backup as compared to Mali-T880MP4.
MediaTek Helio X23 vs Snapdragon 625
Components

Helio X23 (MT6797D)

Snapdragon 625

CPU

Deca-core (ARM 4 x 1.4GHz Cortex-A53+ 4 x 1.8GHz Cortex-A53 + 2 x 2.3GHz Cortex-A72)

Octa-core (ARM 8 x 2.0GHz Cortex A53)

GPU

Mali-T880 MP4

Adreno 506

Architecture

20nm

14nm

Memory

LPDDR3 (800 MHz)

LPDDR3 RAM (933 MHz)

eMMC 5.1 storage

eMMC 5.1 storage

Display

2560 x 1600 WQXGA

1080p Full HD

Quick Charging

Yes

Yes, Quick Charge 3.0

LTE

Cat6

LTE X9 Modem

300Mbps download

Cat7

50Mbps upload

300Mbps download, 150Mbps upload

ANTUTU Score

90k-95K

60-65K

Conclusion
Both the chipsets have their own pros and cons. The Helio X23 has a powerful CPU which is not the case with Snapdragon 625, but Adreno 506 GPU used on SD625 is a better pick when it comes to graphical performance. All in all, Snapdragon 625 is not as strong as X23, but all around a balanced chip.
SUBSCRIBE to our YouTube channel TECHNICAL TECH for more interesting tech videos, gadget review and many more.