LENOVO K8 NOTE not connecting to PC | Fixed
LENOVO K8 NOTE is the latest smartphone from Lenovo launched in September 2017. I was trying to copy some data from my PC to this phone but the problem is my computer is not able to detect the smartphone. This is all because there is no proper driver install into my computer. Finally I have got solution for this and feeling glad to share this information with you guys. In this post am going to show you how to install MTP driver and Fix Lenovo K8 Note not connecting to PC error. So without any further delay lets start.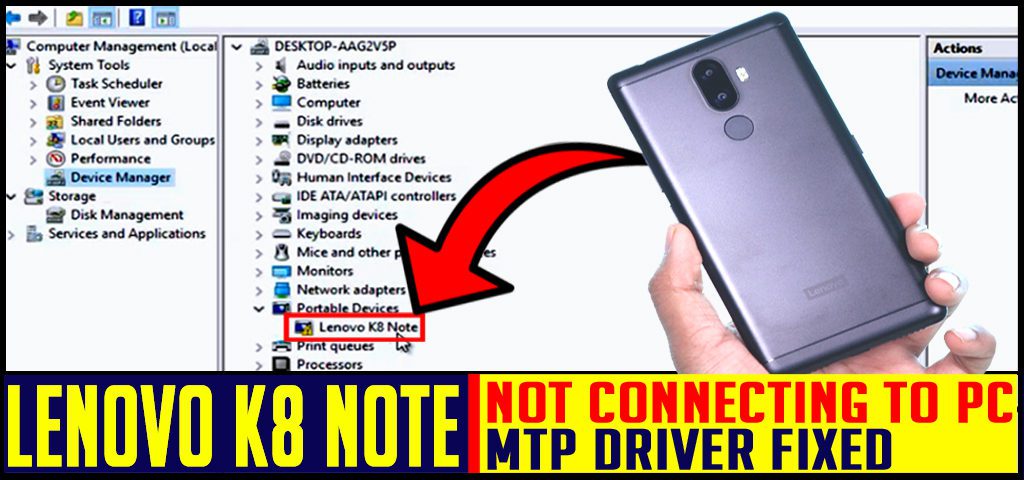 STEPS TO FIX LENOVO K8 NOTE NOT CONNECTING TO PC ERROR
Right click on my computer and go to Manage
Select Device Manager, it will show you list drivers installed in your computer.
Expand Portable Device, you will find Lenovo K8 Note showing yellow color triangle which means there is no driver for this device installed.
Right click on Lenovo K8 Note and select Update Driver Software.
Select browse my computer for driver software.
Click on Let me pick from a list of device drivers on my computer
Select Universal Serial Bus from the list and click on Next.
Select MTP USB device and click on Next.
Check whether your phone detected in your computer or not. If not, remove your smartphone from PC and reconnect it back and go to device manager, refresh the page.
Now, inside Portable Device you will find MTP USB device. Right click on it and select update driver software
Select Browse my computer for driver software.
Click on, Let me pick from a list of device drivers on my computer
Select, MTP USB Device and click on Next.
Bingo, its all done. Now, your smartphone is ready to use in your PC.
Here is a video tutorial, hope it will make you understand the concept better.
If still you are facing the error then try to download the MTP Driver and install it manually.